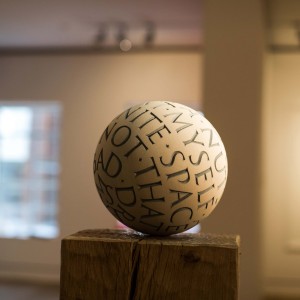 Sandstone globe with quotation from Hamlet Act 2 Scene 2: O God, I could be bounded in a nutshell and count myself a king of infinite space, were it not that I have bad dreams.
Gary was recently commissioned by the Royal Shakespeare Company to interpret a quotation chosen by the actor Paapa Essiedu for WELL SAID!.
Paapa, who played Hamlet  at the RSC in 2016 says: It's a brilliantly curious and incisive line. I love how in a handful of words he crystallises the limitlessness of the minds power and its potential to release as well as imprison. There is a childlike wonder about the way he acknowledges the power of imagination to deconstruct the framework of the material world and cram ALL things into relative nothingness. But also a trepidation about the potential depth of darkness that his mind can leave him vulnerable to in his bad dreams. He posits that the entire universe is a fluid and malleable structure that will take whatever shape you allow your mind and imagination to give it – your perspective. There's a beautiful duality and balance to the way he tackles such an enormous idea and he cuts right through to the core of it with razor sharp precision – it's like splitting an atom bomb.