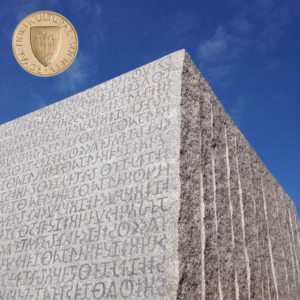 "...one of the most uplifting things that I have ever seen at Chelsea" - Monty Don
Sponsored by the Marble and Granite Centre Ltd and designed and made in collaboration with Martin Cook, Antithesis of Sarcophagi represents a world turned inside out; a garden inside a sculpture; desolation versus life; civilisation versus nature. A forty-four tonne rough granite cube, one face painted with a mysterious inscription, contains a rejuvenating woodland; only visible from the stark, ash-charred exterior through small fissures in its surface.
The planting was done with great sensitivity and precision by 7 times RHS medal winner Chris Holland.
Of the Antithesis of Sarcophagi Monty Don said, "The combination of the stone and the garden hidden inside it creates one of the most uplifting things that I have ever seen at Chelsea"
£ POA Contact me to purchase