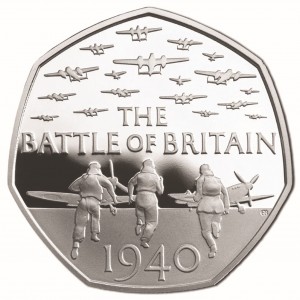 Their Finest Hour – an official UK 50p remembers the Battle of Britain, honouring those who fought for control of the skies 75 years ago.
Gary has been commissioned to produce a number of designs for the Royal Mint but this is the first one to make it through to production.
"In some ways the Battle of Britain appeals to our innate joy at winning against tremendous odds. I did want to celebrate that to a point but something was missing. I spent some time working on designs based around the aircraft but they didn't say enough about the meaning of the Battle to us today. It was my brother Lee Breeze, a keen numismatist, who proposed the idea of focusing on the people rather than the hardware of war. I would like the coin to remind us of the selfless sacrifice of the Few. The airmen run away from us, they don't walk slowly to their fate, and we may never see them again. It's an evocative image."
The coin went into circulation in September 2015.