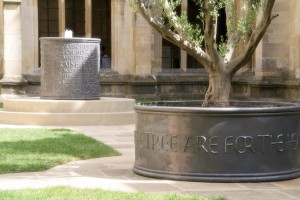 Lead and Woodkirk sandstone
The brief called for a fountain which would acknowledge the spiritual and secular aspects of life at Christ Church. Working within a sensitive location, Gary proposed a complete re-landscaping of this central courtyard, incorporating a container for a new tree and a fountain, both cast in lead, set on stone steps within cross-shaped paving, symbolic of the balance between earth and spirit. The work was a gift from Robert Sandell, a graduate member of Christ Church.
For this project Gary worked with Norfolk leadwork craftsman Brian Turner. The commission was arranged by Memorials by Artists and managed by Modus Operandi.