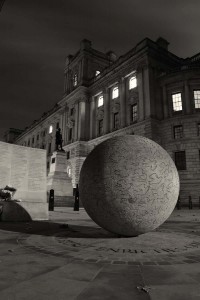 Granite and portland limestone, Globe diameter 152.4cm Wall: h.200cm, w.638cm, d.56cm, 2006
Brief: 'Our aim in marking this tragedy is to provide a fitting public and permanent memorial to the loss of so many deeply loved British people'.
Commissioned by the families of the victims of the terrorist bombing, Gary Breeze was selected by Memorials by Artists and won the competition to design the memorial for this prestigious site on Horse Guards Road between the Foreign Office and the Treasury. Breeze's concept consisted of a granite globe carved with 202 individually designed doves representing the individual victims who were from 28 countries around the world, and an elegant sweeping wall carved with their names. The work was project managed by and executed in collaboration with Martin Cook Studio and unveiled by HRH The Prince of Wales on the 12th October 2006.