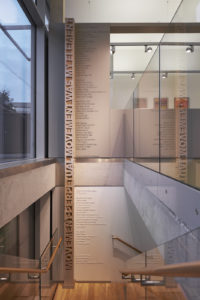 Marie Rambert's quote, "MOVEMENT, PERPETUAL MOVEMENT, WAS MY ELEMENT" carved into a hewn column of green oak.
The Rambert dance company's state-of-the-art premises on London's Southbank was opened by HM The Queen in March 2014. We were commissioned to realise a donor recognition scheme which would both make a strong statement and fit well with this simple, modern building, beautifully designed by architects Allies and Morrison. To incorporate a sculptural point of focus, we carved Marie Rambert's quote into a hewn column of green oak, a material always alive and in perpetual movement, balancing with the solidity and permanence of the building.
A bespoke font was designed for the names, based on the movement of dancing figures.
The building received a presitigious RIBA National Award in 2014 as one of the best new buildings of the year.