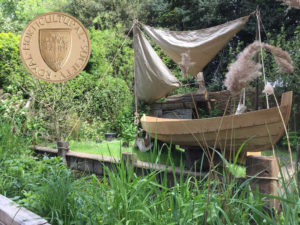 "My own taste is drawn very much to the Artisan Gardens and in particular this one." Monty Don
Lowestoft Boatbuilding College created a Gold medal winning Show Garden at Chelsea Flower Show 2017
Gary Breeze, renowned lettering sculptor and sometime boatbuilder, won both Gold Medal and Best Fresh Garden awards at Chelsea Flower Show 2016 in collaboration with Martin Cook with their extraordinary Antithesis of Sarcophagi garden.
Sponsored by IBTC Lowestoft, Gary along with students and staff created an Artisan Garden entitled 'A Broadland Boatbuilder's Garden', which featured a replica of the Medieval Loddon Chet Boat recently discovered and excavated by the Broads Authority.
BBC Gardener's World presenter Monty Don was once again very complimentary about Gary's garden, saying "My own taste is drawn very much to the Artisan Gardens and in particular this one… it's that link between human skill and the natural world that I think is a celebration of life and certainly is exemplified in this Gold medal winning garden."
An all East Anglian team created the garden using reclaimed timber donated by the Broads Authority. Local experts in Broadland habitats Natural Gardens oversaw the planting of locally sourced native species, drawing attention to the scenic waterways, rare flora and fauna and the boatbuilding skills which are such an important part of the area now known as the Norfolk Broads.
For more information click here